"All Elections Shall Be Free And Equal"
Oklahoma Constitution, Section III-5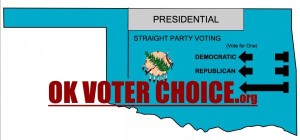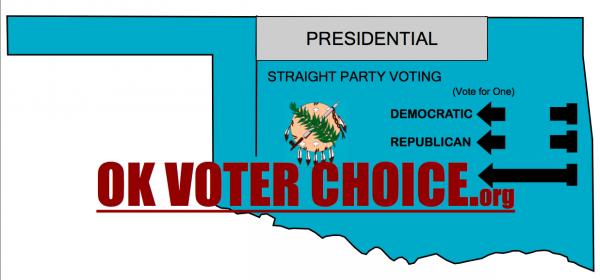 Oklahomans For Ballot Access Reform is a coalition of independent voters and supporters of alternative parties in Oklahoma who want fair ballot access laws that allow voters more voices and choices in state elections. We work to promote legislation that empower Oklahoma voters and support the democratic process.
OBAR recently achieved a great success! In early 2015, our members were instrumental in pressing lawmakers to lower the petition signature requirement to form a new political party in Oklahoma. Beginning Nov. 1, 2015, the signatures of registered voters equal to 3% of the votes cast in the last general election for governor are required to gain official state recognition of a new party. Once recognized, citizens can register to vote as a member of said party, allowing them to vote in party primaries.
Before the change, Oklahoma required signatures equal to 5% of the votes cast in the last general election for governor or president of the United States. That requirement – passed in 1974 – stood as one of the worst in the nation for getting candidates (especially for president) on the ballot with their party label. Ballot Access News publisher Richard Winger had this to say in 2013:
Six states are responsible for 60% of the total national number of signatures needed to place a new party or independent presidential candidate on the ballot in the entire nation. Those six states are California, Texas, Oklahoma, North Carolina, Georgia, and Indiana.
Along with what is still an extraordinarily high signature barrier to form new parties, Oklahoma places an ominous barrier before newly recognized parties wishing to retain their official party status. In order to stay on the ballot from election to election, the new party must field a candidate for Governor and President and gain 10% of the vote in each of those elections. If the party does not field a candidate or their candidate does not get 10% of the vote cast, the party is no longer recognized and it must start over with the petition process. Our goal is to reduce that vote test to the pre-1974 requirement of 1% of the vote and change it from a 2 year status to a 4 year status. Meaning, once a party meets the signature requirement, that party retains status for four years regardless of candidates fielded or votes received.
Why is all this important for Oklahoma? We live in a nation that was founded on the idea of fair representation in government. Because the parties in power in Oklahoma have changed the laws to make it harder to remove them from power, we have lost that ideal. Our government has been set up to force the people to follow those in power rather than the other way around. By reforming Oklahoma's ballot access laws, we can begin the process of making sure that those we elect are there to look after our best interests and not their own.