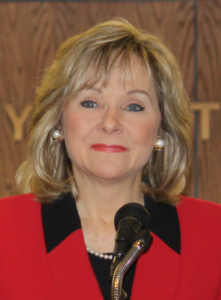 While Governor Mary Fallin has not officially announced her reelection campaign, she is plenty busy putting plans in motion. According to NewsOK, she is busy fundraising for her unannounced campaign and raising awareness of her record as governor for the last 3 years.
I haven't set a specific date to kick off a re-election announcement, but I have been having some fundraisers across the state and we do have a campaign website up along with sending updated emails out to our current supporters.
That website is up and running and is full of information about her record and her plans. So even though she is not currently openly running, she is still working hard on that reelection campaign.
But what about her challengers? Are there any takers on who will oppose her in the coming 2014 election? Not according to anyone in the Democratic or Republican parties.
Wallace Collins, chairman of the Oklahoma Democratic Party, said he's talked with several people about seeking the post, but has gotten no takers.

"Nobody's put their hat in the ring yet," he said. "Obviously we're still looking."

Oklahoma Republican Party Chairman Dave Weston said he hasn't heard of any GOP contender to challenge Fallin in the June 24 primary.

"I'm aware of very few (statewide) primary challenges at this point," he said.
Of course it is still early and challengers will come. Registration for candidacy for any 2014 race will not open until April 9,2014. So there is still plenty of time for anyone to join in.
But while it is good to know who the Republican and Democratic challengers might be, there is still another section of the populace that could field a challenger. Unlike the Presidential race, there is a fee in lue of petition for the governor race, meaning that any Independent or even an Americans Elect candidate could run for Governor as long as they have $1500 to cover the fee. This makes it far easier for anyone to toss their hat in the ring.
Oklahoma has not had a Gubernatorial challenger from outside the duopoly parties since 2002. In that race, Independent candidate Gary Richardson swept 14.1% of the vote pulling the Governor's seat out of Republican hands and into the Democrats. If another Independent springs up for the 2014 race, you can most assuredly expect complaining from Gov. Fallin and her campaign.
While I have not heard word of any specific challenges from potential alternative candidates, I have put word out to alternative parties to see if they have any plans to seek the Governor's seat or any other statewide offices coming up for elections. As I hear word back from them, I will let you know.