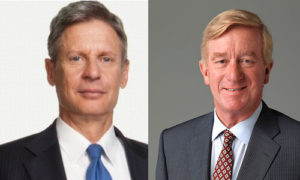 As of Sunday, Oklahoma voters will have the option to pick between three candidates for President and Vice President. The Libertarian Party held its national convention this past weekend and they elected Former New Mexico Governor Gary Johnson for President and Former Massachusetts Governor William Weld for Vice President. Both candidates took two ballots to elect, but both pulled a little over 49% of the vote on the first ballot.
This is great news for voters in Oklahoma and especially the Libertarian Party of Oklahoma. They spent a lot of time and money to get on the ballot this year and are excited for this news.
Congratulations to Governor Johnson and Governor Weld, the Libertarian Party's candidates for President and Vice President of the United States!

You weren't handed this victory on a silver platter, it wasn't scripted or "made for TV", and it definitely wasn't easy, heck it wasn't even pretty. Because of this the world got to see a legitimate and principled political process take place, and this is just one of the reasons why the Libertarian Party is the ONLY legitimate party on the ballot in 2016!

We are all looking forward to a presidential campaign that puts our party's principles in the limelight and on the presidential debate stage. The momentum you will provide will cause the Libertarian message to be loud and clear in the main stream benefiting Libertarian races all over the country, and there's no reason for us not to push it on into the White House from there!
According to recent news, Gary Johnson is already polling well against Donald Trump and Hillary Clinton. In addition to that, the Co-Chair of the Commission on Presidential Debates has called for Gary Johnson's inclusion in future polling.
We will keep you up to date on any future news.